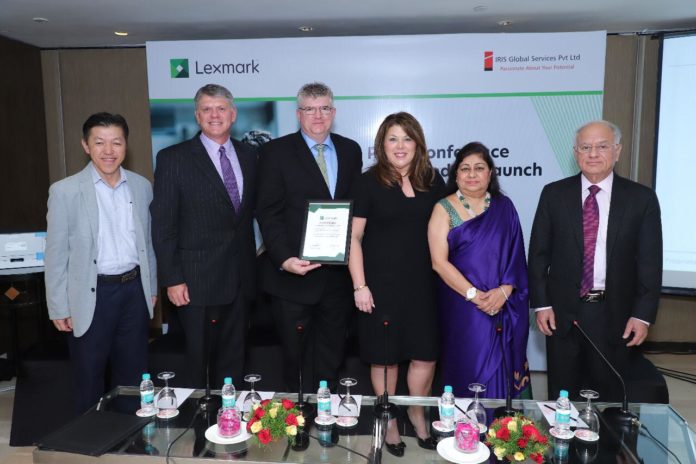 After US printer manufacturer Lexmark being bought by a Chinese-led group and recent rig jig at global management, the Indian arm of Lexmark International has renewed its focus on the local market. The company has partnered with 23-year-old IT distributor house- Iris Global services, as part of the value-added distribution agreement. Under the new partnership, Iris will be responsible for positioning the Lexmark range of printers into SMB, enterprise and government tendering opportunities.
To mark this partnership, global team of Lexmark including Paul Merritt, Vice President, WW Velocity Channel sales, Sabrina Hall, Director, WW Channel Business development and David Tay, General Manager, Channels, Asia Pacific from US and Singapore flew down to reinforce its commitment towards the channel market in India. The company launched two A4 laser printers- Mono and MFP models as part of the GoLine series. The company has priced these two printers aggressively and looking to have a decent market share in the SMB and enterprise segments with the support of Iris partnership.
Speaking to CRN, Merritt says, "The new Lexmark is all about Empowered, Enabled and Incented. In the past, we were more focused on enterprise led partner fulfillment, but with new Chinese ownership, we have been working towards channel and distribution go to market. We started this indirect sales model last year in North America followed by Europe and now in the Asia Pacific. In North America, we have moved back 2000 direct accounts to our channel and we are building channel collaborations and tapping new markets. In India, we will exhibit our global market leadership in MPS and enterprise and will replicate the expertise and solutions in India by adding Iris on board."
In the last 10 years, Lexmark had been having its timid presence in India, largely catering to corporates and enterprise with selected partners. But with the new range of printers coming into the fold, starting under Rs 10,000. The company has opened its market for SMBs, education, retail, government as well as enterprise.
Giving the perspective of local business, Rajesh Onkar, Country Manager, Lexmark India, who is with Lexmark for the last seven years in Bangalore informs, "Previously, we were centered around the enterprise, but as the printing market holds more opportunities in SMBs. We have entered into this price-sensitive segment with the competitive range of single function printer (B2236) is at Rs 6900 and MFPs( MB2236) is priced at Rs 17,000. So far we have installed base of 50,000 devices and we are working with existing 120 partners. With Iris, we will align our existing as well add new partners into our business. While the product after sales service and support will be handled by Lexmark direct."
Operationally, the Lexmark India's business will be part of AP region under David Tay in Singapore informs, "The Lexmark takeover would allow reaching the next level of growth and innovation faster than as a standalone company. With the consortium's resources, we will be able to continue to invest in and grow the business to more fully penetrate the Asia-Pacific market for hardware, software and managed print services," Tay added.
Since Iris is a new distributor for Lexmark printers. The distributor has set a target to close revenue of over Rs 50 crore with Lexmark this fiscal year and looking to grow by 35%. Sanjiv Krishen, Chairman, Iris Global Services, says, "Lexmark printers technologically and commercially are more reliable. Being part of IBM, it has the strength and applicability of technology and we see intent and seriousness from Lexmark's global team to grow its India business. In the US, all major banks and industry use Lexmark. In India, they have not been actively present. We are well prepared with our channel and distribution's experience to position Lexmark printers into SMBs."
Kamini Talwar, director, Iris Computer says, "In India, we have not seen any major technology disruption in printing space in last one decade. The market for laser A4 printers has been witnessing the growth and printing needs have been on the rise. We will help Lexmark for its printers and supplies footprints growing in the channel business."
Currently, Iris has a portfolio of 16 IT and non-IT brands. The company has made its forayed into Iris Woods and looking to clock Rs 1800 turnover in this fiscal year. The Delhi based distributor has started doing dollars billing for some of its brands. Among all the brands, Dell is one of the strongest brands for Iris, it does Rs 300 crore worth business annually.
If you have an interesting article / experience / case study to share, please get in touch with us at editors@expresscomputeronline.com