With the average Indian consumer expected to spend almost four per cent of their wallet on travel, Cleartrip hopes to use the industry's momentum to cruise to even higher growth
The financial capital of Andhra Pradesh, Visakhapatnam has the potential to become a world class IT destination, in tune with Hyderabad and Bengaluru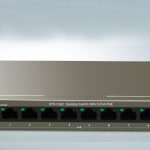 Tenda, a supplier of networking devices and equipment, has launched TEF1109TP-8-102W, an 8FE+1GE Desktop Switch With 8-Port PoE. The TEF1109TP-8-102W is equipped with features...
By Gokul Bhagabati After the International Business Machines Corp (IBM) completed the acquisition of Red Hat for $34 billion earlier this month, a top executive...
PreLoved Device, an online portal that sells re-commerce products in mobile category, announced its strategic tie up with Phixman to further strengthen its foothold...
Veeam Software has announced the appointment of Alistair MacIntyre-Currie as Vice President of Field Marketing for Asia Pacific and Japan (APJ). Reporting to Brian...
By Neeraj Gargi Microsoft launched Azure Lighthouse in general availability combined with some improvements to the Azure Migration Program ahead this MS Inspire 2019 conference...
By Rajdipkumar Gupta From ads to drip campaigns, brands that use message apps are able to connect better with their customers more effectively than their...
By Pramod Sharda Technology today has shifted from what it was a few years ago. Most things that are technology enabled in this present era...
By Vikash Mittersain Business managers and leaders, whether in large firms or small and medium-sized enterprises (SMEs), know better than anyone else the challenges of...
By Prem Rodrigues The Internet of Things (IoT) enables billions of gadgets to be associated and speak with one another to share data that enhances...
The exponential growth of data traffic is making it necessary to rethink today's network structures. Infrastructures for edge computing are already being created. The edge trend is leading to a paradigm shift in cabling
Based on the theme 'In Asia, for Asia', Alibaba Cloud Summit, held recently in Singapore, highlighted the company's focus outside China, as it looks...
Dell Technologies World 2019 highlighted the power of technology partnerships for digital transformation, and focused on greater engagement with channel partners at the Global Partner Summit
The financial capital of Andhra Pradesh, Visakhapatnam has the potential to become a world class IT destination, in tune with Hyderabad and Bengaluru