Microsoft is and continues to be a partner first company.  Globally, the cloud major has over 400,000 partners. And 95% of its commercial revenue comes through partners, and so the focus will always be on expanding the power partner opportunity. In India, Microsoft has a 14,000 plus partner ecosystem that delivers value to businesses and to the country's economy. Partners play different roles. Now with partners, Microsoft shares a common goal to help customers drive business growth and digital acceleration.
Speaking in a partner's virtual meet organized by Microsoft, Alok Lall, Director – Partner Development, Microsoft India says, "Business transformation hinges on 3 fundamental principles. Agility, differentiation and economics, and I'm inspired by our partners innovation and the agility on top of our platform to unblock customer growth and build a competitive advantage for them. We value how our partners amplify our reach and impact across with customers across industries and verticals, from the largest of enterprises to the customer. We are focused on ensuring partners have the right skills, tools, and resources they need to compete and win."
Presently, Microsoft empowers wide range of partners that represent the diversity of the ecosystem. In a virtual partners meet large advisory partners like EY and ITes partners like Birlasoft, to cloud solution providers and independent software vendors like G7CR and Celebal Tech shared their journey of digital transformations experiences.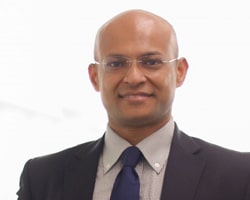 According to Sibjyoti Basu, Client Service Partner Microsoft & EMEIA Microsoft Alliance Leader, the experience has been that digital transformation means different things for different clients. But there are only two consistent themes that we are seeing across our clients. One is talking about impacting outcomes. While there could be some others who are looking at a more functional transformation of the front office or back office or reshaping the supply chain or workforce transformation and so on and so forth. So, it's a very diverse pattern."
Transformation across SMBs
Another partner of Microsoft explains the digital transformation of SMBs, Sudhir Kothari, CEO & Managing Director at Embee Software says, "Our digital journey started almost two years ago, and we feel we have now been able to get some kind of a foothold on the digital space right now and we have been acquiring a lot of customers, almost 30-40 a month. The customers are showing the interest which was not there earlier.". Today, 60% of Embee business comes from enterprise and the idea of focusing a lot on SMBs right now is that there are going to be corporation coming out of these SMBs in future.
He adds, "The pandemic has forced lot of SMBs to adopt technologies overnight to remain relevant in the business. So, we see all kind of opportunities in SMBs for example ERP, CRM collaboration, security, hybrid cloud solutions.  All opportunities are coming up and the decision making and inclination towards cloud innovation. Today they are looking at how they can actually manage their business better which was not there earlier."
Innovation across Startups
Jesintha Louis, Director – Partner Success, G7CR Technologies talks about the company's experience with the startup says, "We are onboarding 25 startups on an average every single month. Combined with speed and flexibility. It's not just about that I can only do this but changing things to suit partners to ensure their growth happens and Microsoft has given us a lot of confidence in this."
Customers success, both local and global
While talking about bringing technology and business together and innovative solutions at the same time Shreeranganath Kulkarni, Chief Delivery Officer, Birlasoft informs, "Building innovative solutions cannot be done in isolation and should be done addressing a client specific problem which I call as a co-innovation. We try addressing this co-innovation challenge with the help of technology which we get through Microsoft. This is what is binding us with Microsoft, helping us drive growth and scalability for our customers."
Leveraging emerging technologies and increasing innovation
Anirudh Kala, Director, Chief Data Scientist, Celebal Technologies says, "Two years back, we started with the customer on their digital journey. We are currently solving, ML/AI problem, optimizing their supply chain or their customer analytics or their sales analytics or financial analytics. For us, the pervasive transformation, whether it's about the ERP data, or automation the processes through an RPA on power platform or helping them create a new line of applications just by themselves using the low code-no code platform."