Automation is the flavour of the era we are in. Be it at an individual level or an organisational level, automation is expected to become smarter day-by-day. And with business landscape today becoming extremely competitive, exceptional customer experience is what required. To beat the competition and stand out in the market, robust technology and utmost customisation is a must.
When it comes to technologies like IoT, it cannot be one size fits all formula. It pays well when it is industry specific. IoT is growing rapidly due to its inherent usability and usefulness quotient. Also, its growth is attributed to the slopping cost of hardware, ease of connectivity among the devices and on-premise and cloud systems becoming easier.
As per NASSCOM report on IoT landscape, India will be a front runner in IoT adoption in Asia Pacific (APAC). The IoT market size in India is expected to grow at rate of 62 per cent CAGR and reach US$ 9 billion by 2020. The number of IoT connections are expected to grow at a CAGR of 137 per cent, increasing from US$ 60 million in 2016 to US$ 1.9 billion in 2020.
"The IoT market in India has been growing steadily over the last few years but at a slower rate than the American and European markets," says Anuradha Kaur, Managing Director, One Network Consulting. One Network is a 24-year old company consisting of three divisions- distribution, system integration and managed services. It has a global presence in the UK, UAE and Singapore.
Shantanu Som, Founder & Director, Som Imaging Informatics points out, "Industrial IoT (IIoT) is becoming a part of the digital transformation for the enterprises. However, for the IIoT implementation, there is an information technology, operational technology divide. Most of the organisations are trying to mitigate this divide by appointing a Chief Digital Officer (CDO), whereby the job of the CDO would be to bring in the operational technology and information technology team together and make them work towards a common goal."
Som Imaging Informatics is a Software OEM and Solution provider. The company operates through a network of offices and operation centers spread across major cities of India and through its clusters of business partners across the globe.
Collaboration is the key
When it comes to solution providers of IoT, collaboration is the essence."In terms of IoT, our goal is to build out the ecosystem and work closely with our partners as a value-added distributor. We have been working with different technology partners across all verticals to provide our customers with a holistic solution. We are technology partners with MultiTech Systems and PNI Corp which enables us to service our customer's IoT requirements," informs Kaur.
In the entire IoT deployment paradigm, there are solution providers who provide end-to-end solutions while there are others who form a part of the procedure. Although even for those who renders end-to-end solutions cannot really be "end-to-end". Simply put- even for those providers who offer comprehensive solutions would have to procure devices or sensors or for that matter hire a third party for installing or mounting sensors in the things. And today it is true for the technology universe that goals cannot be achieved by operating in silos.
"We have our own solution and own platform and own IPR. But we are collaborating with other players in the domain. In IoT landscape no one is self-sufficient," says Som. "Ideally IoT consists of four layers one is the sensor and instrument layer (hardware devices), the second layer is the edge (few processing is completed on the edge), the third layer is the transport layer (network) where some filtered data is sent from edge to the cloud and the fourth layer is the IoT cloud application (for analytics and insight, device management, global rules) etc," explains Som. "We provide IoT sensing application on the cloud called OmniSense. Of course we do not manufacture sensors, we design it and for installation we depend on a third party," he adds.
Given the potential of the IoT market, new players are vying an entry into the ecosystem. One such category of players is the IMS service providers for whom IOT is the next logical step having deep expertise in managing multiple infrastructure projects and associated hardware installation.
According to the RS Shanbhag, Founder, Chairman & CEO of Value Point Systems, "IoT is in the trending phase right now (perhaps referring to the Gartner hype cycle). This line of business is catching up very fast."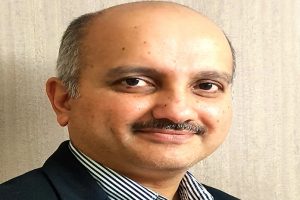 "By April next year, we (Valuepoint) will be launching our own collaboration ecosystem. We are referring to use cases in the Europe or the USA market and intend to replicate it in India. This is more relevant for us since we serve several global customers for their IT infrastructure, cyber security requirements in the typical IMS space. I will also look to be part of the IoT solutions in the industrial automation process whereby I will gaze the trending requirement of the industries and collaborate with people who are already into industrial automation. We will explore the IoT solutions which will be rolled out IT infrastructure vendors and will look for a good collaboration with them and try to map the industries we are already serving for new opportunities," he claims.
He further adds, "Post one year of this practice I will access if we have any opportunity of building our own IP and build on some end-to-end solutions."
IoT opportunities
Highlighting the opportunities, Kaur says, "We have seen a lot of progress in verticals such as smart energy and water metering, smart agriculture, smart healthcare, logistics and most importantly and prominently in smart cities but there is still a great amount of knowledge-sharing and collaboration required to bring the applications to life. With that in mind, One Network aims at being a one-stop-shop to our customers, and have therefore built an in-house team of solution architects and hardware designers that work round the clock to enable our customers to achieve their end result."
One Network focuses on the LoRaWAN as opposed to others due to its benefit of being scalable at a comparatively low cost. "With that in mind and to further be entrenched in the IoT ecosystem, we have become an adopter member of the LoRa Alliance, which is an open nonprofit association with more than 500 member companies and is committed to enable large-scale deployments and promotion of the LoRaWAN open standard," informs Kaur.
It is also interesting to see how channel partners are manoeuvring this entire IoT scenario as per their capabilities and their customer's requirements.
Mohan Rajamani, Director, Cache Technologies and Communications shares, "We are not using products and solutions of any principal vendors like IBM or Siemens or Honeywell etc right now, but we have built two solutions. One for an NGO and the other for a microbrewery. The former solution is for weather monitoring stations, which is basically an air quality monitoring system, in terms of measuring the polluting particles and providing realtime report. With that we have been able to shut down one a polluting factory in Whitefield, Bangalore. The latter is an IoT based platform to measure specific gravity and temperature and there is also a pilferage detector. With this, the brewery has been to circumvent the losses incurred due to pilferage issues."
Elaborating on the technology used Rajamani says, "The air quality detector solutions is built on opensource with the help of Arduino boards. There are multiple sensors involved and we have developers in-house who built solutions for air quality monitoring. For the microbrewery iOS and android app, along with IoT sensors for all tanks whereby actual temperature can be measured real-time and gives alert in case of any inconsistencies."
The sales cycle in IIoT is relatively slow, says Rajamani. Perhaps that is why IoT is still to catch up as their main line of business. However, it may just be a matter of time when the tech seeps into consumer space and brings up more opportunities for the providers and ease for the users.