Over a hundred Indian IT channel partners, channel focused technology companies and thought leaders gathered at CRN Channel Leadership Summit (CLS) and Excellence Awards 2019. The event was held from 22-24 November 2019 at Hyatt Regency, Pune
By Moumita Deb Choudhury and Sandhya Michu
Channel partners have always been indisputable leaders in the IT space. Be it the vendor companies or organisations and establishments, they all swear by the potential of the channel partners. The Indian IT channel community has been evolving from time-to-time and has set benchmarks to reckon with. Their endeavours have powered and enabled endeavours of innumerable businesses – large and small.
To recognise them and to shine the spotlight on their superlative efforts and exceptional work, CRN India organised 2019 edition of its flagship Channel Leadership Summit (CLS). Held from November 22 to 24 at Hyatt Regency, Pune, the summit served as an extraordinary platform for vendors and channel partners to deliberate on the prospects for business growth, emerging technologies and the growing role of channel in digital transformation, financial stability and technological empowerment within the IT channel business. They introspected on the prowess to tackle key business challenges faced by the Tier I and Tier II markets and tap potential opportunities underlying in these regions.
The third edition of CLS 2019 began with a fireside chat with one of the industry veterans, Devendra Taneja, Managing Director, PC Solution, who jogged the audience's memory about his initial business struggle and how his business evolved from a timid PC distributor to a new-age cloud partner. This gripping session was conducted by Srikanth RP, Group Editor, Express Computer and CRN India. Taneja further shared insights on business models that work for the PC business. He shared with his fellow partners, how his farsightedness helped the business to move on to new technology before it gets commoditised.
Nurturing growth
In a session, Venkatraman Swaminathan, VP & Country GM, India & SAARC, Secure Power Division, Schneider Electric, deliberated on the topic, 'Maximise your profitability with Edge Computing'. In a comprehensive presentation, he spoke about how Edge Computing is going to be a big business opportunity for partners. Swaminathan talked about the company's channel roadmap and recent use cases in digital transformation. He emphasised on channel preparedness for tapping Edge Computing opportunities.
Kaushal Veluri, Director, Channel Ecosystem, NetApp India took over the stage and talked on, 'Any Cloud, One Experience'. In his session, Veluri emphasised that digital transformation requires IT transformation and data has to play an important role in the process of digital transformation. He was of the opinion that the channel should keep their business plans based on millennial influenced technology trends.
Lata Singh, Executive Director, Partner Ecosystem & CSI, IBM India, informed about the growing channel business at IBM and how the company is becoming more channel-friendly than ever before. She set out plans for the channel after the IBM-Red Hat acquisition, as workloads are moving to Linux, and as business needs elasticity and not just deployment.
Getting future-ready
In a panel discussion titled, 'How tech partners can survive and compete in the age of apps, ML, and AI', leading channel stalwarts shared insight shared that insights. The panel discussion was moderated by K V Jagannath, MD & CEO, Choice Solutions. The panelists included R S Shanbhag, CMD, Valuepoint Group; Ajay Sawant, MD, Orient Technologies; Sunil Dalal, MD, Softcell Technologies Global; Devendra Deshmukh, CEO & Founder, e-Zest Solutions; Kaushal Veluri, Director, Channel Ecosytem, NetApp India and Gaurish Lawande, Director and Head of Systems Engineering, India Sales, Nutanix.
Experts on the panel discussed the use cases of emerging technologies that they are working on. They were of the strong opinion of the need for collaboration. They also looked at the common gaps and operational challenges and skillsets that come along with these emerging technologies. Shanbhag pointed out that healthcare and IT/ITes are two of the key segments where these new age technologies are getting more discussed. Similarly, the panelists also shared ideas to mitigate the challenge of required skill sets and the changing technology requirement of enterprises.
In another session, Gaurish Lawande, Director and Head of Systems Engineering, India Sales, Nutanix, focused on building a digital economy with partners. Transitioning from a software company to a cloud company is the next level of digitisation. Lawande informed his partners that customers don't want to be hooked to a proprietary API of a cloud provider. They want to take their own licenses – proprietary or open source – and not get into a lock-in. He said, "That is the reason our multi-cloud blueprint exists. AWS, Azure, Google and Nutanix are talking on multi-cloud as there are now multiple places for the customers to run their apps."
In his session, Amarish Karnik, Director – Channel Sales & Alliance, India & SAARC, Veeam, shared his belief that the best of solutions don't sell unless sold by the best channel partner. He reiterated that Veeam has operated 100 per cent through the channel and the company's success in the market can largely be attributed to this approach. A large section of his presentation was around how Veeam is becoming a platform for the multi-cloud and hybrid cloud era.
In a session titled, 'Creating environment for data to thrive', Bhavin Shah, Regional Sales Manager, Western Digital, gave a glimpse of the vast range of storage solutions which is catering to the need of growing data storage. He showcased the latest flash storage from the house of the leading data storage provider.
After the power-packed presentations, the evening concluded with CRN Excellence Awards. The third edition of the much coveted awards celebrated the contributions of leaders and pioneers in the Indian IT channel space. The awards served as platform for IT channel to showcase their innovative technology projects and innovative solutions to their customers for operational excellence, business improvement and better outcomes. This year, CRN Excellence Awards were kept on theme 'Recognising Excellence'.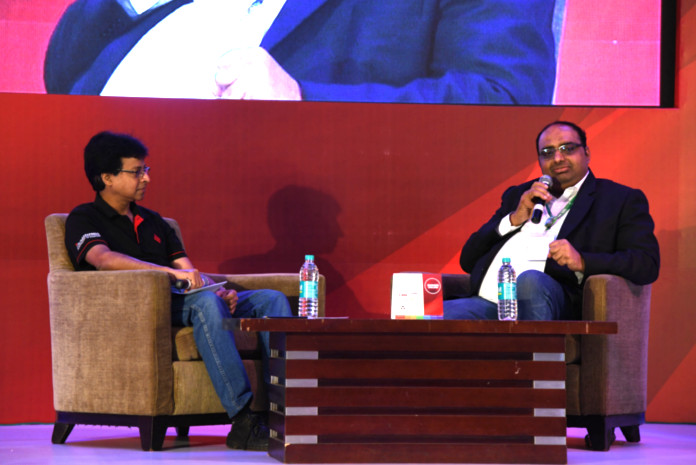 Business in the new age
The second day of the summit kick-started with a fireside chat between Sachin Rao, Director & CEO, Archon Consulting Systems and Srikanth RP, Group Editor, Express Computer
& CRN India. Rao pointed out that understanding the areas of specialisation is a must before a new project is taken up. Also, one needs to know the business risk and never overestimate; it is important to manage their cash flow imperatives for the business. He highlighted that hiring should only be taken up when there are projects in hand and collaborating with channel ecosystems can bring in new opportunities. He pointed out that it pays off to hire a market research agency, not just for global business trends, but localised inputs as well – this helps in business planning.
The day furthered with a presentation by Santosh Kulkarni, Country Head, Business Development – Smart Solutions, Vertiv India, wherein he highlighted that OEMs should bring more value to the overall ecosystem. Talking about Vertiv, Kulkarni said that in 2018, Vertiv made three important acquisitions of Energy Labs, Geist and the service contacts of MEMs. Emphasising on the importance of Edge Computing, he said that going ahead, 21 per cent of data will be created in the Edge Computing. He also said that Vertiv encourages certification and training for partners and custom based products and solutions for customers.
The Vertiv presentation was followed by the panel discussion on, 'Identifying the growth opportunities in Tier II and III cities, and creating a niche in the competitive landscape'. This was a unique topic and the panel consisted of top bracket channel partners from Tier II and Tier III cities. The session was moderated by Nivedan Prakash, Editor, CRN India. The esteemed panel consisted of S Karthikeyan, MD, Bloom Computers (Coimbatore); P K Sinha, MD, Astric Solutions (Patna); Dhiraj Vijayvargia, Director, Priyam Infosystems (Jaipur); Bhaskar Kalita, MD, BMG Informatics (Guwahati); and Sijo Alex, MD, Corrigo Technologies (Kochi). The key takeaways from the panel discussion were that Tier II partners are looking for more collaborations with larger channel ecosystems for new digital opportunities; and with Smart Cities, the government vertical and the Digital India have been given major push in Tier II cities.
The panelists pointed out that understanding their own strengths built over years should help them in expanding their operations and that value additions and upselling of services with existing customers help in repeat business. They emphasised that channel partner events like CRN CLS have helped Tier II partners to explore new geographies and avenues.
Jaya Mahadevan, Director, Channel and Alliance, Secure Power Division, Schneider Electric India. Mahadevan said that the key pillars of partnership is profitability, support, enablement and partner experience. She informed that this year, Schneider Electric regularised the lead pass system, and the company is gearing up with its Centre of Excellence, which is going to be a key differentiator for the partners. She highlighted that Schneider's mission for 2020 is to create the best breed, autonomous, scalable and modern channel ecosystem and that Schneider's focus areas are aligned with technical sales, programs, digital channel management and partner experience.
Schneider's informative session was followed by a session by Vikas Bhonsle, CEO, Crayon Software Experts India, who said that Crayon is helping customers in their digital transformation journeys and that the company extensively covers the world with its services. He informed that Crayon is accelerating its joint go-to-market plans with its partners and that the company is helping partners as aggregators for matching different skill sets for new customer opportunities. He emphasised that cloud, AI and ML are big opportunities for partners.
Altaf Halde, Global Business Head, Network Intelligence, spoke on, 'Industrial cybersecurity – Threats and opportunities'. He mentioned, it is very important to maintain internet and cyber hygiene, and pointed out that OT and IT are converging today. Global cyber attacks are increasing aggressively, he highlighted and also said that Industrial Control Systems are now easy targets for attackers who are highly motivated for geopolitical aggression, financial gains, theft of corporate IP and 'hack-tivism'.
Shantaram Shinde, VP, Channel Business Head, NTT-Netmagic, presented on the topic, 'The digital journey and empowering transformation'. He said that multi cloud strategy is what will work, going forward, and mentioned that Myntra and Centuryply have transformed digitally by NTT-Netmagic. The company is looking to co-create business opportunities with its partners and that growth is largely driven by multi-cloud, private cloud, and SD-WAN segments. Shinde pointed out that NTT-Netmagic wants to deepen the engagement with existing partner ecosystem and onboard new-age partners.
Rushikesh Chitre, Senior Manager, Technical Support and Pre Sales, MicroWorld Software Service spoke about MicroWorld's multi-layered approach towards security. Chitre informed that MicroWorld is incorporated in the USA and has offices worldwide. The company is represented by more than 50,000 partners in more than 190 countries across the globe. He further said that the biggest challenge today is – and will be – to ensure cyber security and that cyber space is dominating the globalised economy.
Power of discussions
To put in context the new channel initiatives, engagements and opportunities, Schneider Electric held a power discussion with the channel partners at the event. The discussion was presided by Venkatraman Swaminathan, VP & Country GM, India & SAARC, Secure Power Division, Schneider Electric; Jaya Mahadevan, Director, Channel and Alliance, Secure Power Division, Schneider Electric India and Ankesh Kumar, Marketing Director, Schneider Electric.
Edge Computing was discussed comprehensively and how it can be leveraged by the channel community. The spokespersons explained the features of EcoStruxure Micro Data Centers which is an innovative way to deploy server and networking equipment. The solution is not mere assembling of equipments, but careful assembling of a data centre. "Schneider solutions are designed in a way that partners can meeet the requirements of any specific location. The Schneider channel team is investing immensely in non-metros markets," informed Mahadevan.
Cyber security company eScan, engaged in a power discussion to share more the channel initiatives and how channel partners can utilise the plethora of opportunities with the company. The company spokespersons explained that large enterprises are taking products and doing in-house vulnerability assessment and mitigation. They are buying services from cyber security service providers, which can be an opportunity for channel partners.
Delving deeper, they said that the company offers 24×7 support. Shedding light on the avenues for channel partners, they said that there is a rise in advanced cyber-attacks, ransomeware, phishing, hacking and malware attacks. There is an increased awareness of cyber-threats and the benefits of risk assessment. Security is the most important enabler of digital transformation, and is boosting the enterprise security spending in India.
Discussing channel-centric initiatives and how the IT channel can tap new opportunities with Vertiv, channel team of Vertiv held an exclusive power discussion session with selected IT channel partners. The session was jointly conducted by Sanjay Zadoo, Country Head, Channel Business, and Santosh Kulkarni, Country Manager – Business Development, Vertiv India. Zadoo shared that with the growing demand, Vertiv has streamlined its operations, offerings and strategies to be more focused on customers, with reduced response time, faster development of new solutions and improved services.
"Our portfolio of power, cooling and IT infrastructure solutions and services extends from the cloud to the edge of the network and are able to work in complex situations and address critical power needs," said Kulkarni. Seconding him, Zadoo stated that the next era is a golden era for system integrators and he sees ample opportunities for the channel for their growth in Edge Computing.
The channel heads explored and explained the growing need of power solutions like SmartCabinet among enterprises. At the end of the discussion, Vertiv team prepared a list of suggestions taken from the channel and assured to bring new channel centric programmes and initiatives for enhancing the role of channel partners.
In an interactive power discussion with selected partners, Shantaram Shinde, VP, Channel Business Head, NTT-Netmagic shared the roll-out of new Managed Service Partner Program in April, 2020. Netmagic's channel team said that the new programme is simple and stresses on channel profitability. Shinde encouraged more cloud partners to explore the Netmagic services like co-location, SOC and multi-cloud platforms. He explained how Netmagic is different from other hyper scale cloud providers and how the company offers a gamut of services to its partners. He was of a strong opinion that channel growth will be largely driven by multi-cloud, private cloud, SD-WAN, and security services.
The final presenter of the event was Mitesh Shah, Regional Sales Manager, Channels – West, Dell Technologies. He emphasised that every organisation needs to be a digital organisation, powered by data running in a multitude cloud environment. It is important to be a larger channel company, playing in multiple technology domains.
The presentations were followed by Indian Channel League (ICL) team presentations, who were given the task of designing a solution for a business environment given by the jury of CIOs that included, Shreyas Dukle, CIO, Mahindra Partner Companies, & Gr CIO Office, M&M; Vaibhav Palan, Head of Technology & Digital, Piramal Enterprises; and Dipu K V, President – Operations & Customer Service, Bajaj Allianz.
After the presentations, the event was marked by the CRN CLS Excellence Awards to recognise the leaders and ground-breakers in the industry. The awards were all the more special this time with the inclusion of Channel Partner awardees from Tier II cities under the Trailblazer category, which was much appreciated by the audience.